Filled Chocolate
We craft our French couverture chocolate into a thin, crispy shell to cover our small, handmade batches of filled chocolates. Flavors include Wild Maine Blueberry, Raspberry, Caramel with Maine Sea Salt, Peanut Butter, Maple, Cherry and Espresso. Some of our local suppliers include Kinney's Sugar House, Fresh in Jar, Seacoast Coffee, Gryffon Ridge Spice Merchants, Maine Sea Salt, and Cabot Creamery.
8 pieces boxes of one flavor are available as well as the most popular assorted box with one piece of each flavor. Suggested retail $10. BEST NEW PRODUCT at the 2019 New England Made Show is our 24 piece box with 3 pieces of each flavor. Suggested retail $28. Purchase 24 of our 8 piece boxes and receive a free display riser. All product comes with a "Best By" date with a 3 month shelf-life.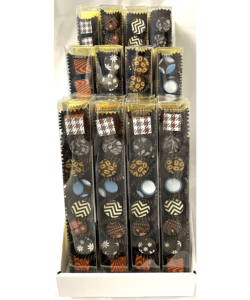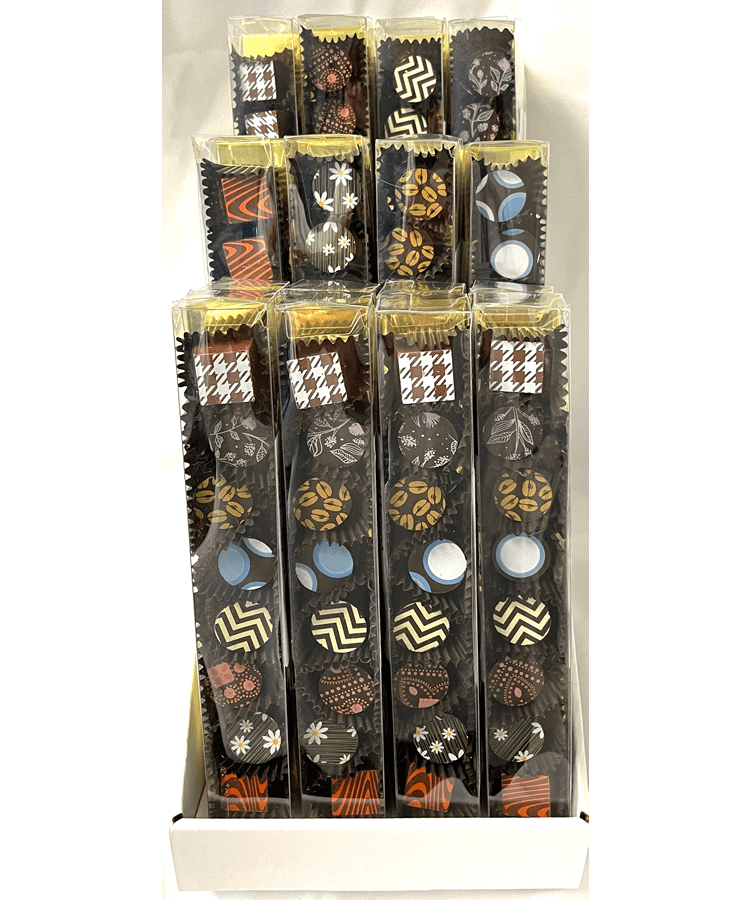 Bar Chocolate
Our dark chocolate bars are a popular purchase that customers buy for themselves. The adult "Merlot Sea Salt" is the most popular. The "Wild Maine Blueberry with Sunflower Seeds" is almost a health bar full of protein, fiber and antioxidants. The "Ginger" bar will give you a gentle hint of heat, while our "Ghost Pepper" bar will test your Scoville Heat Unit tolerance. Each label features an adopted shelter pet and each bag is heat seated to lock in freshness giving these pieces a one year shelf life. Gluten free. Vegan. Suggested retail $6/each. Retailers – order 36 bars, in any combination, and we will include the riser display for FREE.